Nokia 6103 mobile phone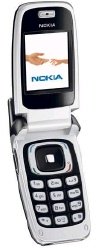 The Nokia 6103 mobile phone is one of Nokia's more basic clam shell phones, with a nice flip design and all the features expected of a standard mobile phone. It is basically an upgrade of the Nokia 6101 with an added bluetooth facility.
This handset, as per other Nokia's, has a very simple and easy to use keypad & is simple to use for calls, messaging and email. All the normal Nokia menu features are there, plus a VGA camera, HTML browser, push to talk and GRPS.
If you are looking for an easy to use bluetooth telephone for day to day usage, to make phone calls, for messaging and basic camera functions then the 6103 is a suitable candidate.
Whilst not being the most fashionable bluetooth enabled telephone, and gadgety phone around, the Nokia 6103 is a decent performer in the middle market.
The Nokia 6103 Mobile Phone is brought to you by Cheapest Utility Suppliers along with a whole range of mobiles for UK phone users looking for cheap mobile phone offers