Nokia 6101 Mobile Phone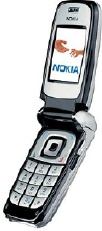 The Nokia 6101 mobile phone is one of Nokia's more basic clamshell phones, but has a nice flip design and all the features expected of a standard phone.
This handset has a very simple to navigate keypad & is easy to use phone for calls, messaging and email. All the normal Nokia menu features are there, plus a VGA camera, HTML browser, push to talk and GRPS.
If you are seeking an easy to use telephone for basic usage, to make phone calls, for messaging and basic camera functions then the 6101 is ideal for this.

Whilst not being the most up to date and gadgety phone around, the Nokia 6101 is a decent performer in the middle market.
The Nokia 6101 Mobile Phone is brought to you by Cheapest Utility Suppliers along with a whole range of deals for UK consumers looking for cheap mobile phones