Samsung Z300 Mobile Phone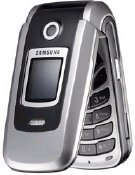 The Samsung Z300 Mobile Phone on 3G has many of the same features as the Z500 and is one of the best 3G handsets on the market today. It is a clamshell phone that comes in silver with dark trim and although it is not as light as the Z500 it is not as heavy as some 3G handsets that are around and with dimensions of 89 x 47 x 25 mm and weighing 115g it is a neat and compact phone.
One of the best features on this handset is the 1152 x 864 mega-pixel digital camera with zoom and photo effects, the photos are excellent and viewing them is good, as the display is also of a high quality. The Z300 also has video capabilities and the music player supports MP3, AAC and AAC+ formats and with 50Mb of memory and the option to expand via the Trans Flash memory card, there is enough room to store your favourite songs. Connectivity is enabled through Bluetooth, infrared or USB and for a 3G handset the battery stanby is good with around 210 hours (3G) and approx 2 hours talk time (3G).
The Samsung Z300 mobile phone has all the 3G features that you would expect and is a handset that is at the cutting edge of technology, so if you like a phone that has all the latest features, then the Z300 is an excellent purchase.

The Samsung z 300 Mobile Phones are brought to you by the UK's Cheapest Mobile Phone suppliers along with other deals on cheap mobile phones, comparisons of cheapest broadband and the cheapest phone calls providers.