Samsung X640 Mobile Phone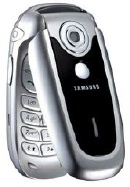 The Samsung X640 Mobile Phone is a low spec clamshell handset that is at the lower level of the Samsung range and as usual, this is reflected in the price. It comes in silver, has a clear easy to use keypad and with dimensions of 87 x 47 x23 mm and weighing 85g it's a compact,lightweight phone. Despite the low spec, the X640 is a handset that has enough features to make it excellent value for money.
The Samsung X640 mobile phone comes with Samsung's voice clarity feature, where the handset senses background noise when calls are being made and adjusts the volume accordingly to ensure voice clarity on all calls. There is a VGA camera with 4x digital zoom and night mode, memory is good with 6.5 Mb and the UFB display boasts 65,536 colours and a resolution of 128 x 160 pixels. Other features include Polyphonic ringtones, handsfree speaker, photo caller ID, Java games and much more.
If you are looking for a decent entry level handset then you should strongly consider the X640, as you will definitely get much more than you would expect for the asking price.

The Samsung x 640 Mobile Phones are brought to you by the UK's Cheapest Mobile Phone suppliers along with other deals on cheap mobile phones, comparisons of cheap broadband and the cheapest phone calls providers.