Samsung X480 Mobile Phone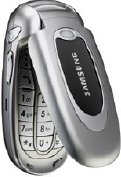 The Samsung X480 Mobile Phone is almost identical to the X460, it has the same dimensions of 85 x 43.5 x 22 mm and weighs 75g making it a light slimline handset. It is a clamshell phone that comes in silver and although it is not a high spec mobile, it is very user friendly with a usable keypad and accessable menus that make navigation simple and easy.
The usual features are there, with a 128 x 160 pixel UFB screen displaying 65,536 colours, 40-voice Ployphonic ringtones, melody composer, voice memo, Java games and more. As with the X460 it has many organiser features such as calendar, to-do list, clock, alarm, calculator and currency converter and the only significant difference between the Samsung X480 mobile phone and the X460, is that the former is a triband handset.
This is a stylish looking handset that is easy to use and does not have a lot of tricky technological features. It is ideal for users who need a reliable handset for texts, calls and general everyday usage.

The Samsung x 480 Mobile Phones are brought to you by the UK's Cheapest Mobile Phone dealers along with other deals on cheap mobile phones, comparisons of the cheap broadband suppliers and the cheapest telephone calls.