Samsung X460 Mobile Phone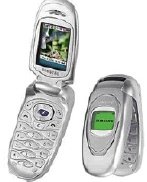 The Samsung X460 Mobile Phone is an upgrade of the popular X450 and it is a stylish looking and compact handset. It is a very small light phone with dimensions of 85 x 43 x 23 mm and Weighing just 75g and it comes in silver and is another of Samsung's clamshell handsets, which when opened reveals a neat looking user friendly keypad.
Features on this phone include a 128 x 160 pixel display with 65,536 colours which also has something call UFB which stands for Ultra Fine and Bright, this is an alternative to a TFT and is an adequate replacement. There is an array of organiser features on this handset which include a calendar, to-do list, alarm, currency converter, a calculator and more. Other features include Java games, phonebook with up to 1000 entries, wallpaper and screensaver; there is 8Mb of memory and the battery standby time is approx 230 hours with around 3 hours of talk time.
The Samsung X460 mobile phone is not a high spec handset but is ideal for calls and texts and general everyday use, if you want a phone that is user friendly and reliable that is not full of technology then the X460 is worth a look.

The Samsung X 460 Mobile Phones are brought to you by Cheapest Utility Suppliers along with other deals on cheap mobile phones, comparisons of the cheap broadband suppliers, and cheap phone calls.