Samsung i300 Mobile Phone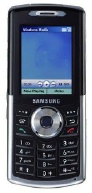 The Samsung i300 Mobile Phone The Samsung i300 mobile phone is Samsung's first smartphone and this handset uses Windows Mobile as its operating system, as a result the interface is the same as Microsoft Windows, so it will be familiar to all users. It is also the first phone to use a hard disk drive and consequently there is plenty of storage space on this phone with 64 Mbytes of internal memory, plus 3Gbytes hard disk and also an external memory card. Due to the array of features on this mobile, it is not initially straight forward to operate, but with a little time and patience you will soon learn your way around.
One of the most striking features on the Samsung i300 mobile phone is the screen, which is a high resolution 262K TFT display with 262,000 colours and it makes viewing pictures and videos a pleasure. There is also a 1.3 megapixel camera with LED flash and digital zoom and a Video camera which uses the MPEG4 format.
Sound quality on this phone is excellent, there are twin stereo speakers with 3D surround sound and a Bluetooth stereo headset is available as an optional extra. There is also a graphic equaliser and a wide range of formats are supported which include MP3, AAC, AAC+ and WMA. The Microsoft software makes music transfer to the handset really easy and connectivity is via Bluetooth, USB and infra-red.
There are many great features on this handset and massive storage space, but it is not a handset for those who are not technically minded. However, if you do want a handset that is at the cutting edge of technology then the i300 could be the phone for you.

The Samsung i 300 Mobile Phones are brought to you by the UK's Cheapest Mobile Phone dealers along with other deals on cheap mobile phones, comparisons of the cheap broadband suppliers and the cheapest telephone calls.