Samsung E820 Mobile Phone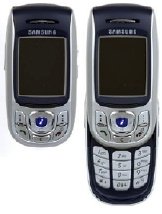 The Samsung E820 Mobile Phone is a very similar handset to the E800, it comes in silver and grey and is an attractive phone with a slide-up design and a mechanism that opens easily with the slightest touch. There are some useful features on this phone but with no Bluetooth or Mp3 player it is not a mobile for users who like all the gadgets on their handset.
The Samsung E820 mobile phone has an integrated VGA camera with digital zoom and photo effects that include a multi-shot option which allows the user to take up to 15 photos. There are 22Mb of internal memory which gives enough space to store photos and the photo-caller identification feature allows you to see the person who is calling by displaying a picture of them instead of just a name or number. Other features include polyphonic ringtones, a phonebook that can store up to 1000 names and useful organiser functions such as a clock, calendar, calculator, scheduler, to-do list and much more.
If you are looking for a phone that is easy to use for calls and texts but is not stacked with technological features then the Samsung E820 is a good buy and is well worth a look.

The Samsung E 820 Mobile Phones are brought to you by the UK's Cheapest Mobile Phone dealers along with other deals on cheap mobiles, comparisons of cheap broadband and the cheapest phone call providers.