Samsung E800 Mobile Phone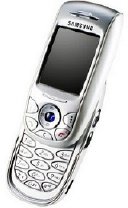 The Samsung E800 Mobile Phone is a silver slide-up handset with a smooth mechanism that opens automatically with the slightest of touches. Although the keypad is small, making calls and sending texts is still easy and the menus are also easy to navigate around, while the predictive texting allows you to add more words making things even simpler.
The E800 has some excellent voice features to make conversations clearer, the handset can sense if there is too much background noise and automatically increases the volume of the incoming call giving more clarity to the call. A brand new function that Samsung have developed is something called Noise Cancellation Functionality technology, a feature which can suppress noise from around you while you are speaking making it easier to hear the incoming call. There is also a speakerphone with similar functions making handsfree calls even clearer.
The Samsung E800 mobile phone has all the other features that are common to Samsung such as Polyphonic ringtones, a quality colour display, VGA camera, Java games and much more. If you are looking for a handset that has all the usual features but is not packed with the latest technology, then this is well worth a look.

The Samsung E 800 Mobile Phones are brought to you by the UK's Cheapest Mobile Phone companies along with other deals on cheap mobile phones, comparisons of cheap broadband companies and the cheapest phone calls.