Samsung E720 Mobile Phone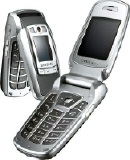 The Samsung E720 Mobile Phone takes many of the features of the popular D500, but where the latter is a slide-up handset the E720 is a stylish clamshell phone that comes in black with a silver trim. The E720 is a small handset with dimensions of 91 x 45 x 23 mm and weighing just 80g making it a very compact and light handset, but despite its size it certainly performs highly as it is one of the highest spec phones outside of the 3G and smartphone ranges.
Features on the Samsung E720 mobile phone include a 1152 x 864 pixels with 4 x digital zoom with flash and effects, a video recorder, Mp3 player, Polyphonic and Mp3 ringtones, downloadable Java games and a phonebook that will store up to 1000 entries. The screen on this handset is the same as the one on the D500 and it is a very impressive 262k TFT colour display and is ideal for viewing photos or video clips. The keypad and menus are the standard Samsung design and are easy to use and navigate around making this a very user friendly mobile.
If you are looking for a compact handset that looks stylish and is user friendly then the E720 is an ideal choice, it combines design and functionality to give a reliable mobile for making calls and sending texts with an array of additional features that makes it a value for money purchase.

The Samsung E 720 Mobile Phones are brought to you by the UK's Cheapest Mobile Phone Suppliers along with other deals on the cheap mobile phones in the UK, comparisons of the cheapest broadband companies and the phone calls.