Nokia 6230i Mobile Phone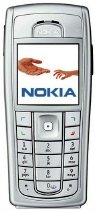 The Nokia 6230i mobile phone is one of Nokia's most popular conventionally designed phones, bristling with features and stylish enough to make it popular with all age groups.
This handset has a very simple to navigate keypad with the standard handset functions easy to find & is easy for anyone to use phone for calls, messages and e-mail. All the normal Nokia menu features are there, plus a good quality camera and video recorder. Connectivity is very good, with USB, Infra Red and Bluetooth all catered for, and data transfer with EDGE. Internet access and email is simple with the 6230i handset.
If you are seeking an easy to use telephone with almost all the latest features, with good battery life and excellent reliability for email and messaging, then the 6230i takes some beating. A very good all round handset.

The Nokia 6230i Mobile Phone is brought to you by Cheapest Utility Suppliers plus a range of mobile deals for UK users cheap mobile phones