Nokia 6170 Mobile Phone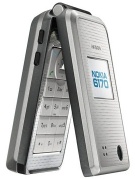 The Nokia 6170 mobile phone is one of Nokia's most stylish clam shell design phones, and has a nice compact and sleek flip design with all the standard features expected of a telephone.
This handset has a very simple to navigate keypad & is an easy and intuitive phone to use for calls, messaging and email. All the normal Nokia menu features are there, with the standard handset functions easy to find. The 6170 handset also has a VGA camera and video recorder, plus an image editor.
There is no bluetooth connection, but does allow fast data transfer by USB & EDGE. Java games and polyphonic ringtones are also standard with this model.
If you are seeking a stylish & easy to use telephone for most types of usage, then the 6170 is more than adequate for these means. Battery life is also good with this handset, but memory could be restrictive if you intend to store lots of images.

The Nokia 6170 Mobile Phone is brought to you by Cheapest Utility Suppliers along with a whole range of mobiles for UK consumers looking for mobile phone deals