Nokia 6021 Mobile Phone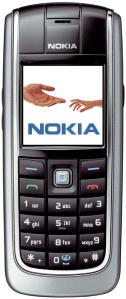 The Nokia 6021 mobile phone is one of Nokia's most popular business mobile phones, but with a classic design and all the features expected by a business user.
This handset has a very simple to navigate keypad & is an easy to use phone for daily calling, messaging and internet access. All the normal Nokia menu features are there, with the standard handset functions easy to find. This handset also has superb connectivity, USB, Infra red and bluetooth, a long battery life and is certainly worth looking at for a business buyer.
There is no built in camera, (you could use a Nokia plug in for that function) - but it is one of the easiest to use and most reliable business mobiles available today. Reliability and conectivity are the main benefits of the Nokia 6021 telephone.
If you are seeking an easy to use telephone for basic usage - to make phone calls, for email and messaging, and data transfer - then the 6021 is more than adequate for this.

The Nokia 6021 Mobile Phone is brought to you by Cheapest Utility Suppliers along with a whole range of deals for UK business consumers looking for cheap mobile phones