Nokia 5140i Mobile Phone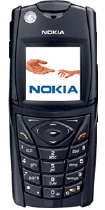 The Nokia 5140i Mobile Phone is a robust handset designed for outdoor use, and is aimed at sports poeple or outdoor lovers. The handset is very rugged and is protected against water and rough handling, there are also snap on covers available as replacements for scratched or damaged handsets.
This handset is not full of technical functions, but it does have a simple to navigate keypad & it is an easy to use phone for daily calling and text messaging. All the normal menu features are there, with standard handset functions easy to find. There is also a nice "Fitness Coach" feature which allows you to set and record training schedules. Another feature is a VGA camera and video player / recorder.
This handset is user friendly with good connectivity, and long battery life. The Nokia 5410i is a good all round functional phone.
The Nokia 5140i Mobile Phone is brought to you by Cheapest Utility Suppliers along a whole range of other handset deals for UK consumers looking forcheap mobile phones