Nokia 3230 Mobile Phone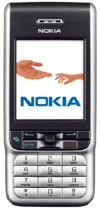 The Nokia 3230 mobile phone is one of Nokia's cheaper & more basic smartphones, but still possesses a lot of technical features. This handset has a neat and classic style of design with a simple to navigate keypad & a good sized screen. All the normal menu features are there, with standard handset functions easy to find. One criticism however, is that the audio quality can be a little below par.
Internet access, MP3, Blootooth wireless games and video recording are all possible with the Nokia 3230, plus a Mega Pixel camera, visual radio and a polyphonic tunes studio to compose your own ring tones.
The Nokia 3230 handset is not at the cutting edge of smartphone design or useability, but does provide a sensibly priced option for those wishing to use most of the available smartphone features.

The Nokia 3230 Mobile Phone is brought to you by Cheapest Utility Suppliers plus a whole range of other deals for UK phone consumers seeking forcheap mobile phones