Motorola V635 Mobile Phone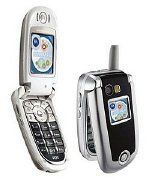 The Motorola V635 mobile phone is an upgraded version of the V620 and they are similar in size and weight, but the V635 comes in black and silver instead of all black. The main upgrade is a 1.2 mega-pixel camera with 8 x digital zoom and a camcorder is also included. Apart from that the two handsets are very similar.
The Motorola V635 mobile phone is the ideal handset if you require a camera phone with high spec display to view your photos, as the camera and the screen on this model are probably as good as any other on the market today. There is 5Mb of internal memory but another addition is the inclusion of a Trans Flash memory card, this allows users to expand the memory which makes it a great phone for storing video clips and Mp3 music files.
This is a stylish clamshell handset with an array of features and great multimedia capabilities, if you love games, videos and music then this handset is the one for you.

The Motorolla V635 mobile phone is brought to you by Cheapest Utility Suppliers along with other deals on cheap UK mobile phones, comparisons of UK broadband services and cheap UK phone calls.