Motorola V3i Mobile Phone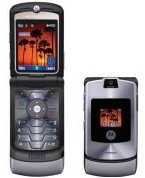 The Motorola V3i mobile phone is a greatly improved version of the Razr V3, Motorola have created the V3i and taken away many of the problems that existed with the V3 and as a result this is a superb mobile phone.
The V3i has a sculpted metal keypad, with a brushed metal casing and although it looks similar to the Razr V3 it is in fact slimmer and there is a choice of colours. The original silver is still available, with dark blue, maroon and violet also available and this phone delivers a welcome combination of quality, design and technology.
Take your pick of the latest V3i deals below:
---
---
Motorolla v3 i Specifications
The external screen is bright and clear with 65k colours and the screen displays who is calling without the user having to open the phone. A picture caller feature is included which displays on the external screen an image of the caller, instead of just a contact number.
The Motorola V3i mobile phone has a much improved camera which has been upgraded to a 1.23-megapixel digital camera that has an 8 x zoom facility, this enables the user to take high quality photographs that can be uploaded to a PC. This model is also capable of video recording with a built in video playback feature. A removable memory card allows the user to save photos and print them out at home when convenient. A music player has been added with the capacity to store up to 150 tracks and the phone has MP3 ringtones installed, with many more available to download.
On the whole most users agree that the Motorola V3i mobile phone is a stylish upgrade from the Razr V3 and it has everything that most users would need in a mobile, it's easy to use and straightforward to navigate around the menus and with stylish looks and fantastic features this is definitely one of the best mobile phones on the market.

The Motorolla V3i mobile phones are brought to you by Cheapest Utility Suppliers along with other deals on cheap mobile phones, cheap broadband internet and cheap telephone calls.