Motorola V360 Mobile Phone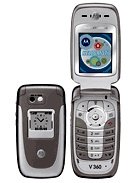 The Motorola V360 mobile phone is a mid-range handset that combines great features and functionality at a price that will suit most users pockets. It has a sleek clamshell design and has quite a high spec supporting Bluetooth, a 262k colour TFT screen and an internal memory of 5Mb, plus capability to expand the memory via a Trans Flash memory card.
Other features include an Mp3 player which is excellent and around 15 music tracks can be stored, there is an Integrated camera with digital zoom, a video camera, handsfree speaker phone, picture caller ID and Polyphonic ringtones. Java games can be downloaded and there is a battery standby time of around 240 hours with talktime of around 250 minutes. The Motorola V360 mobile phone is a user friendly, functional handset that for the price will keep you entertained for many an hour.
Although not the most stylishly designed phone Motorola have ever come up with, this is outweighed by the spec and perfomance of this handset and if you want a mid-range phone with many features usually only found on the more expensive handsets, then this is an excellent buy.

The Motorolla V360 mobile phones are brought to you by Cheapest Utility Suppliers along with other mobile phone offers, cheaper broadband access and home phone calls.