Motorola V220 Mobile Phone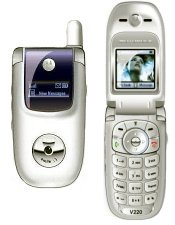 The Motorola V220 mobile phone is a basic entry level handset for users who basically want to make calls and send texts and do not require too much technology. As with most of these handsets the lack of features is reflected in the price, making this the ideal phone for a first time buyer. The V220 is a small sophisticated looking handset with a clamshell design and although its not expensive it still has an array of useful features.
There is an integrated VGA camera with 640 x 480 pixels and digital zoom, a colour screen which is quite small but still crisp and clear, Polyphonic and Mp3 ringtones, Java games are installed with capability to download more and built-in hands free speaker. There is no Bluetooth available and connectivity is via mini USB and there is a battery standby time of around 9 days, with talk time of approx 5 hours.
The Motorola V220 mobile phone is not a handset for those looking for the latest technology, but if you are looking for a user friendly handset that has an uncluttered easy to use keypad to make calls and send texts, with a few extras thrown in, then at the price this is an excellent purchase.

The Motorolla V220 mobile phone is brought to you by Uk's Cheapest Utility Suppliers plus other money saving deals on cheap mobile phones, comparisons of broadband services and cheaper landline phone calls.