Motorola SLVR L7 Mobile Phone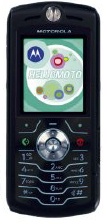 The Motorola SLVR L7 Mobile Phone is very similar in style to the RAZR V3, and has the same etched metal design and futuristic keypad. It is a very slim handset at 11.5mm and weighs just 65g, it may be small but you don't lose out on the features,
There is a 4 x digital zoom camera that takes photos and videos and a good quality Mp3 player for music lovers. Connectivity is through Bluetooth, USB and Sync ML and you can connect to handsfree accessories and talk via the handsfree speaker phone. The expandable memory through a Trans Flash memory card increases the memory up to 512MB which is ample storage for music tracks etc.
The Motorola SLVR L7 handset has a high resolution display with 262k colours and this compares favourably with any handset in the price range. Battery life is good with talktime of approx 400 minutes and standby time of around 150 hours.
There is a lot to like about this handset and for the price its a great all round phone that will appeal to many users across the board.

The Motorola SLVR L7 Mobile Phone is brought to you by Cheapest Utility Suppliers along with other cheap mobile phone deals, comparisons of broadband internet access and cheap home telephone calls.