Motorola ROKR E1 Mobile phone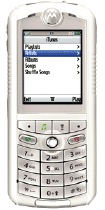 The Motorola ROKR E1 mobile phone has been jointly designed by Motorola and Apple and consequently, it is the first mobile handset to support the iTunes system. Therefore if you like music then this is the phone for you; it has everything you need for downloading and storing music and the sound quality is fantastic.
The ROKR E1 telephone boasts twin speakers which provide fantastic surround sound and you can listen to the sounds through a stereo headset which comes supplied. The ROKR E1 also has built-in Bluetooth functionality which allows you to talk freely on a wireless headset and connect easily to your PC and other compatible Bluetooth devices.
The Motorola ROKR E1 handset is a fashionable, stylish telephone for music lovers and those who like to be seen with the latest most up to date mobiles.

Motorola ROKR E1 mobile phone brought to you by Cheapest Utility Suppliers plus a whole range of deals for UK consumers seeking cheap mobile phones