Motorola A1000 Mobile Phone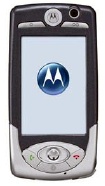 The Motorola A1000 Mobile Phone is a 3G smartphone that is aimed at business users and uses Symbian 3G technology, however, unlike previous Motorola's that fall into this category, the A1000 is much smaller and lighter. With dimensions of 116 x 57.5 x 20 mm and weighing 165 grams it is a mobile that will appeal to most people, not just the business world. Despite the A1000's smaller size it does not lose anything in the technological stakes and carries the latest touch-screen display with 65,000 colours, allowing you to view full screen pictures, videos, and multimedia with perfect clarity.
The Motorola A1000 Mobile phone has 2 integrated cameras a 1.2 mega pixel camera with 4x digital zoom and an internal VGA camera with video recording which is used for video calling. The A1000 supports 3's video calling, video messaging & downloading video clips and with an internal memory of 24 Mbytes plus availability to expand memory up to 256MB via an additional Trans Flash card, there is ample storage for pictures, videos and other multimedia files.
Connectivity is via Bluetooth and USB cable and if you do need to have important documents with you whilst on the move, the A1000 mobile phone allows you to view documents such as Word, Excel and PDF files through a pre-installed Microsoft viewer and users can surf the Internet with speeds of up to 384Kbps, which is very fast. Motorola have also extended the battery life on this handset with a standby time of up to 8 days and talktime of up to 3-4 hours and Video calling time of around 1 hour, this is a big improvement on previous handsets.
Whether you're a business user or not, this latest offering from Motorola is at the top end of the scale when it comes to technology and if you like a mobile that has all the functions and latest gadgets, then you won't be disappointed with this mobile.

The Motorola A1000 Mobile Phone is brought to you by Cheapest Utility Suppliers along with other deals on cheap mobile phones and cheap telephone calls.