LG U880 Mobile Phone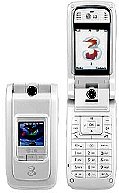 The LG u880 Mobile Phone with 3G is an extremely thin handset with a design and range of colours that will appeal to both men and women. With handsets in silver, black and shocking pink and at just 18mm thick and weighing only 98g, this is not only one of the slimmest, but also one of the lightest 3G phones on the market, and despite the small dimensions it is LG's highest spec phone to date.
The LG U880 mobile phone carries an array of 3G functions which include video calling, fast internet access and media downloads and it also boasts a 1.3 megapixel camera which takes great photos (but sadly doesn't have flash), a video recorder and mp3 player which can hold up to 20 MP3 songs due to an internal memory of 80 MB. There are 2 display screens on this handset, an internal 262K colour display which is an impressive 2.0" in size and a 65K external display which is bright and extremely easy to read when you're outdoors. Connectivity is via Bluetooth and USB and a useful USB charger is also provided and for a 3G phone the battery life is exceptionally good.
The LG U880 mobile phone is an excellent user friendly phone, its easy to navigate around the menus and the eyecatching clamshell design looks stylish and is sure to impress. Previously, LG's 3G mobiles have lacked features such as Bluetooth, an expandable memory and a decent camera, but this has definitely been rectified with this handset as LG have designed a mobile phone that for the price can compete with any 3G mobile on the market.

The LG u880 Mobile Phones are brought to you by Cheapest Utility Suppliers along with other deals on the cheapest mobile phones, comparisons of the cheapest broadband suppliers and the cheapest telephone calls.