LG U8380 Mobile Phone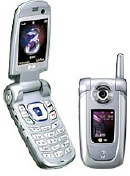 The LG u8380 Mobile Phone is a complete departure from the many 3G mobiles that LG have recently produced. There has been a major redesign for this handset and this appears to have been implemented so that the phone can accommodate a number of technical changes. Although the handset still uses the clamshell platform the inclusion of dual loud speakers near the clamshell hinge, a new dual camera and the addition of an external memory slot are the reasons for LG redesigning the handset.
The LG U8380 mobile phone looks stylish in silver and measures 95.7 x 49.5 x 23.7 mm and weighs 130g which is quite heavy. The keypad has nicely spaced buttons making texting easy and there is a 4-way pad and 2 selection keys to help with navigation. As with most LG's there are 2 screens an internal display TFT with 262,000 colours and a resolution of 220 x 176 pixels, while the external display TFT boasts 65,000 colours and a resolution of 128 x 160 pixels, the latter being the most impressive of the two as it displays information such as battery life, reception meter, time and date and full colour wallpaper can also be displayed.
The U8380 mobile phone has a built in 1.3 mega-pixel camera which can shoot pictures in various resolutions and there is a separate internal camera which can be used to take photos, although its main function is video calling. Black and white and even a setting for sepia is available and the pictures are of a high standard. The U8380 also boasts a video camera, Windows Media Player with mp3 and video playback, 64-voice polyphonic ringtones and Java games. Connectivity is via Bluetooth, Wap and USB using a data cable that comes supplied.
With so many useful features, a reasonable battery life and 32 Mbytes of memory with expandable Tran Flash memory card, this handset will meet the needs of most users and anyone who has had an LG mobile in the past, is sure to be impressed by this model.

The LG u8380 Mobile Phones are brought to you by Cheapest Utility Suppliers along with other deals on the cheapest mobile phones, comparisons of the cheapest broadband suppliers and the cheapest landline telephone calls.