LG U8360 Mobile Phone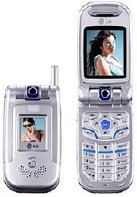 The LG u8360 Mobile Phone on 3G combines the clamshell design of previous LG handsets with some additional features that have not previously been seen in the LG range. It is the first LG handset to support all of the 3G services which are video calling, downloading video clips and video messaging; it is also the first LG mobile to support Bluetooth connectivity, so this is a pretty innovative handset. The phone Measures 49 x 92 x 24 mm in size and weighs 132 grams which is not light but it still looks stylish and feels slender in your hand and the added weight is due to the improved battery life of the phone.
The LG U8360 mobile phone boasts an excellent TFT internal display and the bright colours and crisp images are due to its size of 35mm x 44mm and resolution of 176 x 220 pixels, while the external screen is 65k colours with 96x96 pixels. The handset also has an integrated 1.3 mega pixel digital camera which rotates 180 degrees and also has 2x zoom, which allows the user to take a good standard of photograph. The U8360 also carries a high quality video camera, an mp3 player and has 32MB of internal memory with the capacity to increase this via a Trans Flash memory expansion, which will increase the memory by a further 256MB giving ample storage for multimedia files.
Other features on this mobile phone include: speakerphone, 64-voice polyphonic ringtones and Java games and with a talk time of around 220 minutes and video calling time of approx 145 minutes, this is undoubtedly a good all round mid range handset at a price that will suit most people.

The LG u8360 Mobile Phone is brought to you by Cheapest Utility Suppliers along with other deals on cheap mobile phones, comparisons of broadband services and cheapest home telephone calls.