Samsung D600 Mobile Phone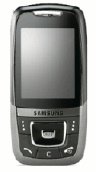 The Samsung D600 mobile phone is an new upgraded version of the earlier D500 and there have been some good improvements. The D600 maintains the slide up design, but is thinner, longer and wider and the screen has been upgraded, with a resolution of 240 x 320 pixels, 262k colours, which gives exceptional clarity.
We've compiled a table of the best deals we've found on the internet. Bear in mind that most of these mobile shops have their own special deals, so feel free to look at them all & find the best deal for you. Buy a D600 at any of the stores below.
Samsung D600 Mobile phone deals - Online offers

Free handset deals, contract and pay as you go on all networks
Carphone Warehouse
Samsung D600 on any network deals
Direct Mobilephones
More D600 Mobile offers, free Free X Box 360 available with this phone
e2save
Pick the handset you want on Any Network
Mobilechooser
Online deals - Samsung D600 prepaid simfree or pay monthly contract
The Link
More online D600 special offers
thephonespot
Web offers on Samsung D600 contract mobile phones & pay as yougo
Chatterbox
Deals on the Orange, 02, T Mobile or Vodafone networks
Mobile Rainbow
More online ND600 special offer mobile phones
Onestopphoneshop
More excellent Samsung mobile deals
There have been few complaints from users of this phone, but as always there are some minor problems that have been highlighted. The main gripe is the fact that you can't have ringtone and vibration on simultaneously and you can't change the default message tones. The Samsung D600 mobile phone doesn't have certain features that can be found in a Nokia smartphone and the camera may not have all the features of the Sony Ericsson K750i, but on the whole it is amongst the best of the non-3G phones.
View the Samsung D600 Mobile Phone review at Cheapest Utility Suppliers