Nokia N70 Review

Nokia n70 Review:
The Nokia N70 on the whole is a well made high quality handset that does everything that is expected of a mobile phone, Nokia have developed the 6680 model extremely well and have set a new standard in smartphones making the N70 one of the highest spec 3G smartphones ever to be released.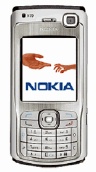 The Nokia N series are designed for people who are seriously into mobile phone technology, but the N70 has been designed in such a way that I think that it will ultimately reach a much wider audience as it is suitable for both business and pleasure. However, it is by no means the perfect mobile phone and to that end Nokia are soon to release the N80, which suggests that Nokia think that they can do even better.
The Nokia N70 3G Smartphone is similar in looks to the Nokia 6680 and you could be fooled into thinking that they look so similar that the N70 has nothing new to offer. However, this could not be further from the truth because the Nokia N70 has many upgrades and advantages that put it ahead of the 6680.
On looks the Nokia N70 is aesthetically more pleasing than its predecessor and with dimensions of 109 x 53 x 24 mm and 126 g, it's now much more compact and with a stainless steel bezel surrounding the screen and keypad, this makes the design look much more classy. The N70 has a conventional box shape with a good sized screen and a functional keypad that consists of a five-way scroll key, two soft keys, an application key, and a multimedia key and overall its a good practical design for a smartphone. However, some users have complained that the keypad is too small and this can be rather annoying, but apart from this there is mainly nothing but praise for this phone.
The built in camera is a very popular feature on the N70, with 20x digital zoom, an integrated flash and a choice of modes. These include scenery, portrait, night and sports and the user is in control of the camera settings and able to adjust, brightness, white balance settings and colour tones. Nokia have built in a dedicated camera button and a protective slide and the 20 X digital zoom is very powerful while the integrated flash has been criticised for not being powerful enough if you are in a dark corner at a party. However, generally the pictures are of a very high quality and the camera is also capable of taking videao recordings and there is a Movie Director application that allows you to edit videos.
This phone has a full range of 3G capabilities, which also includes video calling, video downloads and video/music streaming and a second VGA resolution camera is installed for making video calls. 3G also make data transfer very speedy which makes the N70 useful for both business as well as pleasure. Video playback is supported in RealPlayer media in MPEG4 format, plus audio in a choice of formats including MP3, AAC, Real Audio, WAV and Nokia Ring Tones. The Visual Radio allows you to listen to songs from radio stations and provides information about the song and the artist to the listener.
The battery on the Nokia N70 does not last too long and depending on your usage you will need to charge the phone up every night; you can expect a talk time of 3 to 4 hours and if you have blootooth enabled most of the time, then this will sap the battery. Nokia have also changed the charger socket on this phone and have gone from the standard socket that has been the norm for so long, to a much smaller socket with new adapter making your old chargers useless.
Features of the Nokia N70 include:
2 megapixel camera (1600 x 1200 pixels) with 20x digital zoom and flash
Video recorder
Second VGA camera (640 x 480 pixels) with 2x digital zoom for video calling
Display: active matrix, 176 x 208 pixels, 262,144 colours
Music player: MP3, AAC, RealAudio and other formats
Visual Radio
Downloadable Java & Symbian applications
Voice Features: voice dialing, voice commands, voice recorder
Integrated handsfree speaker
True Tones, polyphonic ringtones
Messaging: SMS, MMS, Instant Messaging, Email
Push To Talk
Conference calling
Advanced contacts database with support for multiple phone and email details per entry, also supports thumbnail pictures and groups
Personal Information Management (PIM)
WAP 2.0, GPRS class 10
Fast WCDMA, EDGE and 3G connections for broadband-speed browsing - up to 384 kbps download / 128 kbps upload
XHTML/HTML multimode browser (supports image maps, background images, and frames)
Mobile Wallet
Memory: 30 Mbytes plus expandable 64 Mbyte MMC card
Connectivity: Bluetooth 2.0, USB 2.0
Triband & 3G (GSM 900/1800/1900 and WCDMA 2100 networks)

Size: 109 x 53 x 24 mm
Weight: 126g
Talktime: up to 3.5 hours
Battery standby: up to 11 days

Nokia N70 review from the Cheapest Utility Suppliers